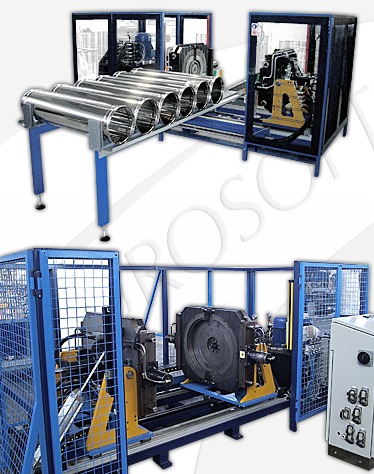 Automatic belling 2 heads
Hydraulic working machine for cold forging and revenue of slots for circular shapes of male and female type on rigid pipes and fittings for flexible hose.
Heavy electro welded steel structure;
Plates and carts shifters milled on cnc center machine
Sliding guides made with precision recirculating ball
Hydraulic device with motor, pump and heat exchanger power 7Kw
Thickness and materials inox from 0.5 to 0.7 mm .Galvanized from 0.4 to 1mm.
From diameter 80 mm to diameter 500 mm;
Male and female molds steel, treated to resist wear,
also profile design to customer request
Regulations: manual on fixing lengths 1000mm,500mm, 330mm
Manual adjustment of the expansion through rings placed on cylinders
Hydraulic rotation and automatic for double molding
Rotation Horizontal of counter to allow processing of curves and special pieces.
All operations are handled automatically by PLC
Automatic ejection tube with pneumatic cylinders bench discharge of 2.5 m
Protection to the working cycle with safety barriers photocell input and output discharge
Time to change molds: male and female, DIMA support center tube about 15 seconds
Production time for middle diameter( 300mm) :molding and ejection tube 25 seconds,
120 pieces at hour.
Dimensions: Length 1500 mm (without table discharge),width 3000 mm ,height:1800 mm
Power supply: 380 Volt – 3 phases – 50 Hz;: 50 Hz ,7,5 KW
Air pressure :6 bar
Weight: Kg. 2.500
In order to improve the product Eurosoft reserves the right to make changes without notice.