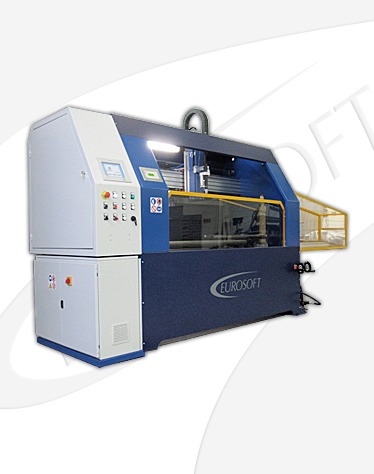 Plasma cutting 3D with control height torch
· Cutting Plasma Plotter 3D dimension operated by CNC with 3 axis with linear and circular interpolation.
· Brushless ABB drivers and motors.
· Plasma generator Thermal Dynamics model A40.
· Smoke extraction system following the torch.
· Automated regulation at diameter change.
· Diameter from 80 mm to 600 mm (optional 800 mm).
· Thickness from 0.4 to 1.5 mm.
· Materials:steel,galvanized,copper,aluminium.
· PC Panel with USB port for data transfer from PC with O.S. WindowsXp Embedded or Linux based.
· Software BRAVO3D provided with circular pieces for component production of : flue, cooling, ventilation and insulation.
· Import/Export drawings by an external CAD.
Machine needed of aspirator with filter of 1200 mc/h
Options:
– Aspirator with filter 1200 mc/h
– Support for up to diameter 800
In order to improve the product Eurosoft reserves the right to make changes without notice.