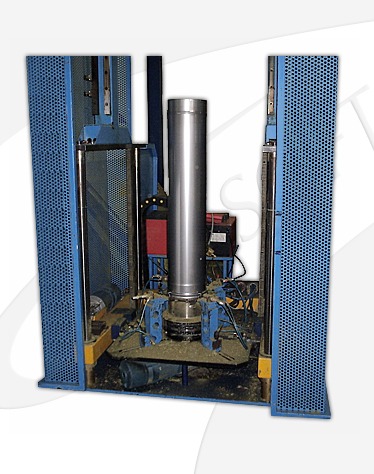 Assembler insulated chimneys
The machine is built for the assembly of tubes with double walls with cavity insulation and selfmaintenance
system between the two inner and outer diameter with a minimum of 80 mm to 300
mm max interior.
It is composed of a spindle to block the expansion of tire inner tube, the automatic welding of Pins,
the subsequent insertion of the insulator (shells) in manual mode and the coupling of the
mechanical outer and inner tube.
It comes with:
– standard tools for each internal diameter,
– a series of tools for the maintenance of the external insulating material,
– a series of panels to support the central pivot during the assemblage of internal tube,insulation and external tube,
– a set of rings to center the two upper tubes .
Machine controlled by PLC Siemens
Length of tubes: 1000 .500 ,333 mm.
Equipment supplied
Tools for diameters:
80,100,130,150,180,200,250,300
Electrical connections and power supply
Electric cabinet 380 Volt – 50 Hz – 3 phase + earth., 2Kw
Welding : 220 Volt 50Hz , monophse+hearth,5Kw
Dimensions:L1500 mm , W 1500 mm H 2500 mm
Weight:1200 Kg
In order to improve the product Eurosoft reserves the right to make changes without notice.